31st January 2019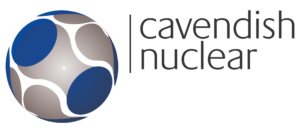 Molly Bennett, Commercial Graduate won the 'Champion of the Year' category, which recognised her work in championing equality, diversity and inclusion (ED&I) initiatives within Cavendish Nuclear. Her drive to champion and promote gender balance and make tangible change has inspired and generated an entire community of people who now want to follow her lead and be a part of changing the stereotypical attitudes that still exist in today's world.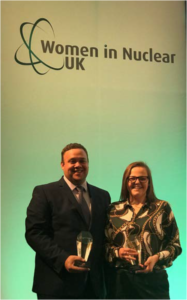 Molly said, "Winning the 'Champion of the Year' award is not only an achievement for myself and the different work I've completed over the last year, but most of all its a testament
to everything that Cavendish Nuclear is doing as a company. Cavendish recognises that increasing and promoting equality, diversity and inclusion is not only the right thing to do to ensure one inclusive culture, but that it also makes good business and commercial sense. I've been with the company for just over 2 years now and I believe that there has be
en a visible step change in this area. I am really looking forward to the future to see what more we can achieve together."
Phil Craig, former Managing Director of Dounreay and Cavendish Nuclear employee, secured the Ally of the Year award and Molly Bennett, Commercial Graduate, won the Champion of the Year award.
Phil was the first Managing Director of a Site Licence Company to sign the Women in Nuclear UK pledge, committing the time and resources required to make a difference at site level. During his time at Dounreay, once a fast reactor research site and now one of Europe's most complex decommissioning projects, he put people at the centre of the company's mission by leading, championing and mentoring others to affect change. This was achieved whilst delivering major complex projects of strategic national importance and achieving a 90% improvement in the Dounreay site's safety record.
Phil said, "It's a real honour to have been nominated for a Women in Nuclear award. For me it means that we are being recognised for putting people at the centre of our business. That mentality, and commitment, bodes well for the long term. I'm incredibly proud of all of the work that has been undertaken at Dounreay during my time there, specifically in relation to equality, diversity and inclusion. All of this work and the reason for this nomination is because of the effort and commitment of the site staff, who are committed to delivering the mission but also to making a difference in the people agenda. To have been part of that journey and to be recognised by them is the most humbling part of all".
Cavendish Nuclear is committed to proactively addressing the gender balance in the industry. As an employer who is actively enhancing the professional development of women in order to inspire the next generation of females into the nuclear sector, it has substantially raised its profile and brand in recent years to drive recruitment in this area, which is paying dividend.