5th April 2019
A £50 million development at Wick harbour could create around 700 jobs.
The plan, being mooted by the Wick Harbour Authority, would result in the construction of a heavy lift and decommissioning quay, a breakwater and a deepened basin in the Shaltigoe area of the port.
That would enable the harbour to attract larger vessels and undertake oil-related decommissioning work.
Harbour board member and former chairman Willie Watt said the development would result in about 700 jobs, including the support infrastructure and supply chain.
He described the Shaltigoe plans as "a big investment and a big step forward" and said if everything goes to plan it could be operational by 2025.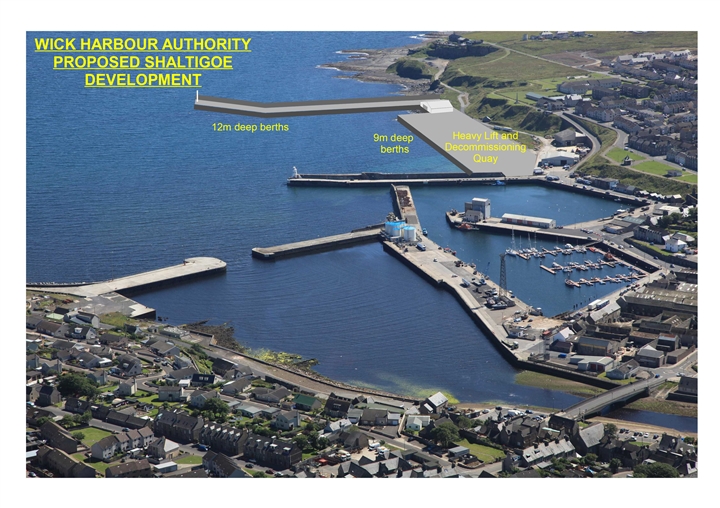 "That would open up other capabilities and enable us to decommission sections of oil rigs," he said. "We believe Wick could play a big part in that market and use the skills set we have at Dounreay to deal with that. The recycled material would go back out by sea."
Mr Watt acknowledged it would require a lot of investment and will not happen overnight. "We would hope to get the funding from various agencies, banks and business partners and if everything goes to plan it should be up and running in six years' time," he added.
Plans are also being made to improve the capacity at the outer harbour so it can service offshore wind developments, other renewables and general cargo.
Wick Harbour Authority wants to install a high-water protection gate across the entrance to protect the outer basin from the effects of easterly storms and improve its capacity.
The high-water protection gate would cost between £3 million and £4 million and would mean that part of the harbour could be better utilised, Mr Watt said. The tender process is under way, with the project expected to be ready by late 2019 or early 2020.
One hundred and fifty jobs have been created by the Beatrice Offshore Windfarm Ltd (Bowl) operations and maintenance base at Wick harbour.
"We have eight boats going to the wind farm from the harbour at the moment but would expect that figure to go up to 14 to 16 this summer," said Mr Watt, who hopes the port will also gain work at the nearby Moray East and Moray West offshore wind developments when they get under way.
"There will be a couple of hundred turbines there and we are pretty confident we can get a slice of that action because of our proximity to the field and because we have already established ourselves as a base for Bowl," he said.
"But to do that we have to develop the outer harbour so we can increase our capacity for Windcat boats. I think Wick, Scrabster and Gills all have opportunities to capitalise on the renewables off our coast."
In the longer term, Wick Harbour Authority plans to build a breakwater on the north side of the bay.
Mr Watt said the catalyst for the redevelopment of the port was the creation of the marina which was undertaken in 2009.
The £2.6 billion Beatrice project will result in 84 turbines being installed approximately 13 kilometres off the Caithness coast. When completed, the 588-megawatt project will be capable of providing enough energy to power up to 450,000 homes.
Picture: Gordon Doull
Source: John O'Groat Journal