5th April 2019
Thurso Community Development Trust (TCDT) have secured a share of funding made available through the Scottish Government's Climate Challenge Fund (CCF). TCDT has been awarded a CCF grant totalling £122,568 for the Thurso Grows project which will allow the project to run until March 2021.
The CCF is a Scottish Government grant programme, managed and administered by Keep Scotland Beautiful. The CCF provides funding and support for community groups to help tackle climate change by running projects that reduce local carbon emissions.
Tracey Taylor, TCDT Chair said of the award, " the Thurso Grows project will reduce carbon emissions by providing workshops, events and activities to encourage and promote local food growing and production along with workshops, events and activities to educate and encourage us to reduce our food waste. We'll be employing two project co-ordinators and a Gardener along with someone to help with the marketing and admin. Anyone interested in the posts is encouraged to visit our website, http://www.thursocdt.co.uk."
The project will see the Community Garden, formerly the Bee Bubble Garden in Ormlie transformed with a redesign of the gardening beds including additions of high raise beds for those with mobility issues, additions of a polycrub, composting toilet and an outdoor kitchen space. Joan Lawrie, Thurso Development Officer explained "We've felt it was important from the outset to make the Garden space a social space that everyone can enjoy. We'll be able to hold some fantastic events along with all the workshops and the garden literally becomes a teaching space. We're super excited to have secured this funding and have so many fabulous plans in mind."
The CCF has awarded over 1,100 grants since its introduction in 2008, for projects involving energy efficiency, sustainable travel, local food and resource efficiency. Total CCF funding since 2008 has exceeded £104 million. Tracey added, "This was a competitive funding round with 87 projects being supported for 2019 to 2021, of those only 22 new projects have been funded including Thurso Grows which is also the only new project to have been funded in Highland Region.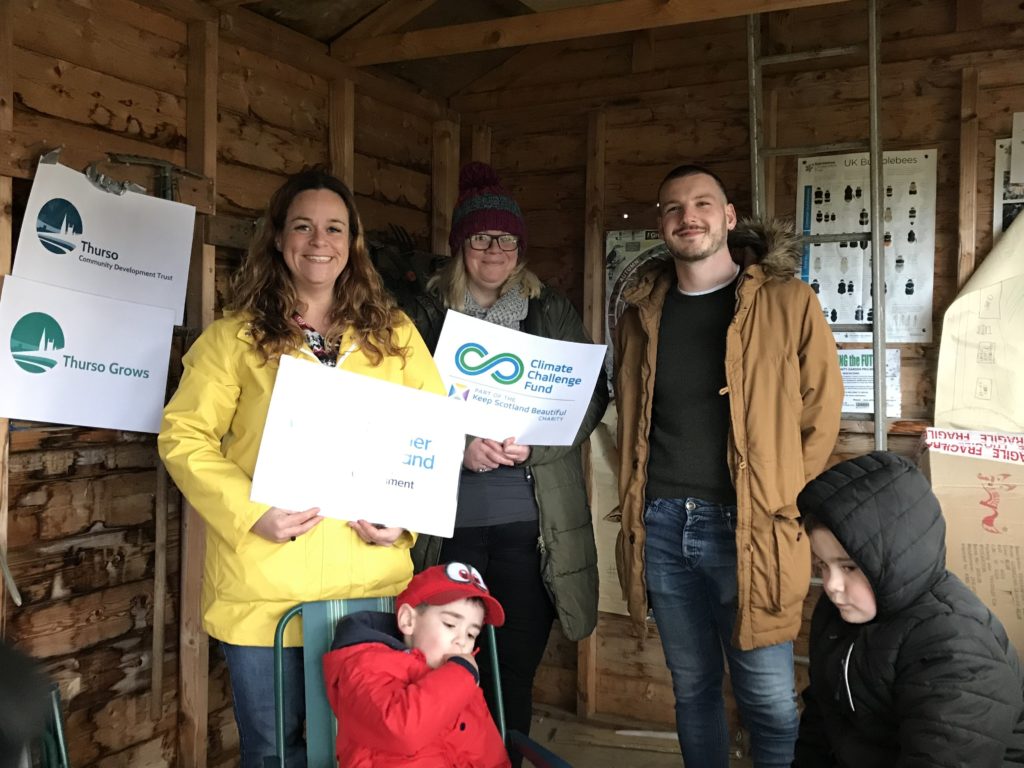 Pictured are: Tracy Taylor (TCDT Chair), Joan Lawrie, Magnus Davidson and in the foreground Struan and Lachlan Sparling.
For more information see: