17th May 2019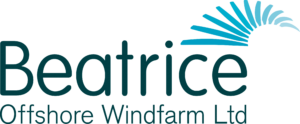 "GREAT news for Caithness" is how Willie Watt of Wick Harbour Authority described the completion of the 84-turbine Beatrice offshore wind farm.
Three years after construction began, the last of the turbines was commissioned on Wednesday at the £2.6 billion Beatrice Offshore Windfarm Limited (Bowl) development which will employ around 90 staff.
"This is a fantastic milestone," said Mr Watt, harbour spokesman and board member. "To install this massive project in in such a hostile environment, off the Caithness coast, is testament to all the skills, engineering and preparation work needed to get this development to where it is.
"It is a great achievement and will be the forerunner to many more turbines to be installed out there. It is great news for Caithness as a lot of people are employed on this project and will be for the next 25 years.
"Its effects will be felt throughout the local economy."
The installation of the final 7MW Siemens Gamesa turbine in the outer Moray Firth, around 13km offshore, brings the site's total installed capacity to 588MW – enough to provide clean energy to more than 450,000 homes.
North MSP Gail Ross praised the efforts of the harbour authority in bringing the project to Wick.
The SNP MSP for Caithness, Sutherland and Ross said: "I'm absolutely delighted and so proud of this massive achievement. It has made a massive difference to Wick harbour with the regeneration of the buildings and the creation of many jobs.
"Praise also has to go to Wick Harbour Authority for its tenacity in pushing to get the service maintenance contract. I've raised a motion in the Scottish Parliament to congratulate all those involved.
"This project will not only bring a significant economic boost to Caithness and Sutherland, it also shows our commitment to a greener future for our energy needs."
Trudy Morris, chief executive of the Caithness Chamber of Commerce, was also delighted.
She said: "The completion of installation works at Bowl is a significant achievement and a real milestone in this important project. It has already seen over £20 million invested directly in Wick and is truly transformational.
"With the operations and maintenance phase due to bring around 90 long-term jobs, this will bring significant additional benefits and opportunities to the north Highlands.
"We look forward to continuing to work with Bowl over the lifetime of the project to build on their engagement and ensure a positive and fruitful relationship with the local business community."
Photograph – Bowl
Caithness, Sutherland and Easter Ross MP Jamie Stone hopes further offshore wind developments will be considered. "This could happen to the west of Orkney with a power cable landfall on the north Caithness coast," the Liberal Democrat MP said.
He hoped the Bowl development and others would lead to permanent high-quality jobs in Caithness. "This should be skills and expertise based," he said. "Being a world leader for this type of project would nicely match the space launch in the far north. Both would make this area the frontrunner in new and important technologies."
Bowl is a joint venture development comprising SSE Renewables (40 per cent), Copenhagen Infrastructure Partners (35 per cent) and Red Rock Power (25 per cent).
Onshore construction began in May 2016 and offshore construction got under way in April 2017.