28th May 2021
A Highland social enterprise has launched a new service to provide affordable spare parts and repairs for domestic appliances in an effort to reduce waste.
ILM Highland, based in Alness, has launched the Spares & Repairs service to provide new and refurbished spare parts for fridges, freezers, washing machines, tumble dryers, cookers and Dyson vacuum cleaners. As well as parts, the team is also able to provide assistance to fix appliances both in customers' homes and in its specialist workshop.
It is hoped that the new scheme will help to reduce the number of large household appliances being discarded when straightforward repairs and replaced parts can significantly prolong their lifespan.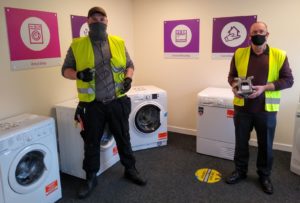 Operations Manager Kenny Horsfield, who heads up ILM Highland's Spares & Repairs team, said: "When a large appliance like a fridge or washing machine breaks down, it's easy to discard it in favour of a new one. However, often a simple fix can have it up and running again in no time.
"Fixing a broken appliance not only saves a lot of money, but it also protects our environment by preventing any improperly disposed of machinery ending up in landfill. That's exactly what we're setting out to achieve with our new Spares & Repairs service – providing affordable and accessible parts and mechanical assistance to our community.
"In the rare occasions where we are unable to source a part or an item cannot be fixed, we are able to safely dispose of the broken appliance through our waste electrical recycling service."
ILM Highland's Spares & Repairs team can source all manner of new and refurbished parts for domestic appliances, including cables, hoses, connectors, seals, cooker elements, oven doors, washing machine motors, replacement shelves and drawers, and Dyson vacuum cleaner parts. Whatever the issue, the team is dedicated to finding the parts required which are offered at trade prices.
Spare parts can be collected from ILM Highland's premises in Alness or can be posted across the country, while household repairs are offered to those living within 50 miles of the organisation's headquarters.
The Spares & Repairs service complements ILM Highland's existing waste electrical recycling scheme, which sees the reuse, refurbishment and recycling of large and small appliances from households and businesses across the Highlands.
ILM Highland is a social enterprise, supporting vulnerable people in the Scottish Highlands to live at home – giving them greater independence and freedom. It achieves this through its Handyperson and Care & Repair services, providing assistance with small and large home repairs and improvements. ILM Highland's charitable services are supported by income generated from its professional and fully certified service for businesses to dispose of their waste electronic and electrical equipment; a domestic small and large electrical recycling service; and its shop in Alness and online, which sells a wide selection of new and refurbished electrical appliances.
To find out more about ILM Highland, and its new Spares & Repairs service, please visit www.ilmhighland.co.uk or follow ILM Highland on Facebook, LinkedIn, Twitter and Instagram.