7th September 2021
ILM Highland was shown a display of strength when World's Strongest Man Tom Stoltman joined in a celebration of their environmental and social impact.
ILM, a charity and social enterprise based in Alness, has processed an impressive 2,054 tonnes of waste electrical items in the last 12 months, ensuring they are disposed of responsibly and avoid ending up in landfill. Stoltman – a passionate supporter of local businesses – dropped by to celebrate the achievement.
The organisation was able to salvage and refurbish almost 500 items throughout the year, which were then sold in its electrical retail shop both online and instore. As well as extending the life of appliances and providing high quality, affordable electricals to the local community, each sale funds ILM Highland's charitable home improvement services which support vulnerable people to be at home.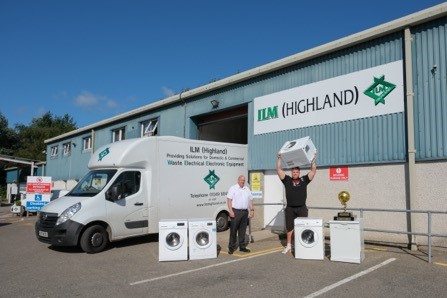 Highland resident Stoltman, the first Scot to lift the World's Strongest Man trophy, said: "It's been really inspiring to visit ILM Highland and learn about everything they do. As a local, I've been a customer before but didn't realise how much impact the business has on the area.
"Their work in our community and for the environment is incredible. I would encourage everyone to shop local and support businesses like ILM Highland that are making a real difference in the Highlands."
ILM Highland's waste electrical recycling directly funds its charitable home improvement services, which assist older people, veterans and people living with disabilities in the Highlands to stay at home.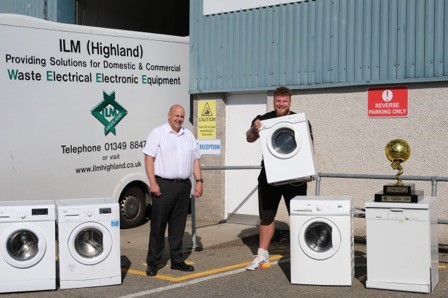 Martin Macleod, CEO of ILM Highland, said: "We're thrilled that Tom Stoltman has helped us celebrate another fantastic year for ILM; we're proud to have been able to continue providing vital home improvement services to vulnerable people during the pandemic at a time when they were most in need of help.
"As household incomes have been unpredictable over the last year, it has also been so important to continue to provide affordable new and refurbished electrical appliances. We are pleased that so many Highland residents have chosen to recycle their electricals – allowing us to reuse, recycle and refurbish them for the benefit of our community and the planet."
ILM Highland's charitable services are supported by income generated from its online electrical retail shop which sells a wide selection of new and refurbished electrical appliances with home delivery across the whole of Highland; and its professional and fully certified waste electrical recycling service for households and businesses.
For more information about ILM Highland, visit www.ilmhighland.co.uk or follow the social enterprise on Facebook, LinkedIn and Twitter.