6th July 2023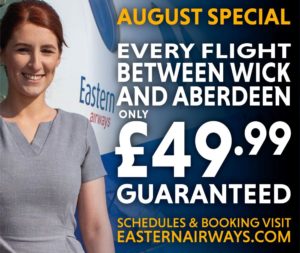 The Highland Council, in conjunction with Eastern Airways, is delighted to announce that August 2023 will see a special rate of just £49.99 per ticket being applied across every seat booked on the Wick-Aberdeen air service.
Bookings for the promotional period opened on 1 July 2023 and will close on 30 August 2023. During that period, any standard ticket booked for travel in August will be available at the flat rate of £49.99 one-way.
The promotion will help inform a wider study supported by Dounreay, a division of Magnox Ltd, to help understand the drivers of demand on the service and to provide an evidence base for future planning and development of the Wick-Aberdeen route.
Councillor Raymond Bremner, Leader of The Highland Council and Chair of the Wick John O'Groats Airport Consultative Committee, said: "The Council has been delighted to support the delivery of lifeline air services from the North Highlands for over a year now, providing almost 9,000 passengers a fast, affordable and reliable way to travel between Wick and Aberdeen. The service has continued to grow as we enter our second year, and at current progress we are on track to carry about 11,000 passengers in 2023/24.
"This special promotional period will give a great opportunity for those who have thought about flying but not yet taken the plunge to give it a go at a guaranteed low price point. With flights twice daily throughout the week, as well as a Sunday service, there are plenty of opportunities to take advantage of this fantastic deal.
"It is vital to us that this service continues to grow and evolve in line with the needs of the communities it serves, and the wider piece of work that this promotion is supporting will help to generate really valuable data, enabling us to deliver an even better service to the North Highlands."
Roger Hage, Commercial Director at Eastern Airways, said: "Any regional air service is aimed at generating increased accessibility, whether to help promote business development and regional prosperity or help support the burgeoning leisure benefits Caithness has to offer.
"While passenger numbers have grown year on year by 35%, this collaborative period of supported fares through August will help bring more from outside the region to see what Caithness, Wick & Thurso offers while also providing an added incentive for those living and working in Caithness to visit Aberdeen or connect onward"
David Calder, Head of Sustainability and Socio Economics at Dounreay, said: "Air services from Wick have demonstrated positive numbers since their return last year and aside from the obvious benefit of a window of lower price flights for all travellers in challenging economic times, getting a better understanding of the impact of price on personal choices around working and travel habits post pandemic will help build the case for the nature of air connectivity to and from the area beyond the term of the current PSO."