Responding to the release of further details from the UK Government on the energy support plan for business, Trudy Morris, Chief Executive of Caithness Chamber of Commerce, said:
"Whilst it is welcome that the UK Government has finally responded and stepped up to provide an initial support package for firms by capping wholesale energy prices for six months, it is simply not enough.  We hope that the Chancellor's fiscal statement on Friday, will give more detail on support for businesses.
"A six-month cap is not enough for businesses to be sufficiently reassured that the problem won't return when the cap is no longer in effect.
"We also urge the UK Government to engage with the business community before defining 'vulnerable industries' cited for support after the original six-month cap.  Right now, many industries are vulnerable, and this is unlikely to change in such a short period of time.
"The Prime Minister has said she wants to deliver growth and get the economy going.  To do this, we need businesses to survive."
ENDS
This month, we're thrilled to welcome to our membership RDI Renewables and Belltown Power UK Wind Ltd we look forward to working with them both.
To discuss membership, please reach out to our Business Development manager, Fiona Levack. You can contact Fiona by email: fiona@caithnesschamber.com. You can read about membership on the website using this link.
If you're already a member but would like a reminder of how to get the most from your membership, Fiona will gladly go over that with you too.
With the continuing energy crisis, many businesses are left wondering what their options are for lowering costs and becoming more resilient to ever changing market conditions.
Whilst the Chamber continues to lobby and campaign for government support for businesses, we wanted to know how renewable heating options stack up in this current economic climate. So, we asked our member Ryan Pollard, at RDI Renewables to share his thoughts on the options available for businesses in way that was easy to understand and clearly set out the cost benefits.
Here's Ryan's thoughts……….
Solar Photovoltaic
With the current energy crisis setting in, many businesses will be struggling to avoid the rising costs for fuel, in particular electric. There seems to be little we can do about it with some companies reporting as much as a 500% increase in their costs.
One option worth considering would be to check the feasibility of solar panels, in the past solar panels have been propped up by government incentives such as the feed in tariff scheme. In more recent years this technology has reached a point where it has been able to stand on its own two feet as far as financial returns are concerned. The standard domestic array from RDI Renewables today will cost around £5,500, this would be for a 5.3kW array which will produce around 4,000kWh per year of electricity. Based on recent costs of electricity of 17p/kWh this would have a value of £680 meaning the investment would pay for itself in just over 8 years, which is not bad.
It can be difficult to come up with a sensible estimate on what today's electric tariff is as many businesses are being quoted as much as 63p/kWh. However let's play it safe and go with 40p/kWh, on this basis on the same size of array you would yield 4,000kWh x £0.40 = £1,600. This is a staggering amount of money and would bring an annual return on investment of 29% paying for itself in just over 3 years.
The good thing about PVs is that they are very scalable and this example will be very similar on a larger scale. For example, a 38.5kW array was recently looked at for a local business on a building with very high electric use. This array will cost £27,086.67 plus VAT to install and will generate around 23,000kWh of electricity, based on 40p/kWh this will save this local business £9,200 per year.
Not all businesses are suitable as some will have much higher electric costs in the winter, for example if electric heating is used. In these cases solar PV may not be worth doing or at least not on a large scale. Many businesses however have consistent electric consumption throughout the year where manufacturing is carried out. Others may have much higher electric usage in the summer if the business has chillers/freezers which work much harder in the summer or perhaps the business is involved with the tourism industry which is seasonal and well suited for solar PV.
One final note to consider on solar PV is that the equipment is very reliable, this technology is solid state and therefore has no moving parts and no annual service requirements. The inverter is the only part of the system which is likely to break at some point and this comes with a 10 year warranty, aside from this the whole system is expected to last over 20 years.
Biomass
For businesses which are expecting high costs for heating throughout this winter another option which may be worth looking into would be a biomass boiler.  Let's take a snapshot of some local prices for fuel and compare from most expensive to cheapest what options local businesses have.
Electric or storage heaters are by far the most expensive way of heating your business, with current electric prices in excess of 40p/kWh. Electric heating is only able to provide 1kWh of heat for every 1kWh of electricity consumed and therefore the cost of this form of heating is 40p/kWh or higher.
Air source heat pumps are a great way for many businesses to reduce costs as they use a refrigeration circuit to move heat energy around as opposed to converting it. As a result this technology can produce 3kWh of heat out for every 1 used, meaning the cost is only 13.5p/kWh. This technology is a great option for anyone who currently uses electric heaters for their business.
Kerosene or oil is another very popular form of heating within the North Highlands. Recent changes to the use of red diesel means that most businesses are now using this for their heating. Kerosene did shoot up to around £1.15/Litre recently but has settled back down to around £0.95 per Litre. 1 Litre of kerosene contains approximately 10kWh of heat meaning the cost is around 9.5p/kWh of heat, which is not bad.
Biomass takes many different forms however the 3 most common are log, chip and pellet. Logs are the cheapest form of heating. However, there are no automated feed systems for log boilers which means you have to load a boiler as well as clean it out and remove ash etc. Some businesses will have the manpower to accommodate this however many will not.
Wood pellets can be blown in via a lorry and the boilers are fully automated making this technology as easy to run as oil. However pellets are a manufactured fuel and are therefore sensitive to international oil and gas prices. This means that they have also seen a significant increase in cost over the past few months and are showing no signs of reducing.
Wood chip comes with the advantages of both of the above fuel types, it's as cheap and available as logs due to the fact that local timber can be sourced from local forests and turned into chip by local contractors. The boilers are also automated so there is no need to light the boiler or refuel for example. If you have the space to accommodate the plant required to run such a system then you could consider the possibility of having a wood chip boiler installed. Many local businesses in the region have found great success in doing so and are continuing to reap the benefits. Wood chip costs around £120 a tonne and 1 tonne of chip (4m3) contains around 3,000kWh of heat, meaning the cost of heating your business with wood chip today is around 4p/kWh.
To summarise, many local businesses within the North Highlands are going to be struggling over the coming winter and beyond. Not all will be suitable for the above technologies however some will be. If you feel that you could benefit and would like to know more about how feasible renewables are for your business then please reach out to RDI Renewables and we will try our best to help. We have been established in the county for over 10 years now and have a wealth of experience as well as a long list of clients who can speak to our services and continued support long after the installation is complete.
Contact Ryan at info@rdirenewables.co.uk or 01847 890012
We are deeply saddened at Caithness Chamber of Commerce to learn of the passing of Her Majesty the Queen. She devoted herself to a lifetime of service to our country and she will be greatly missed.
Our thoughts and prayers are with the Royal Family at this time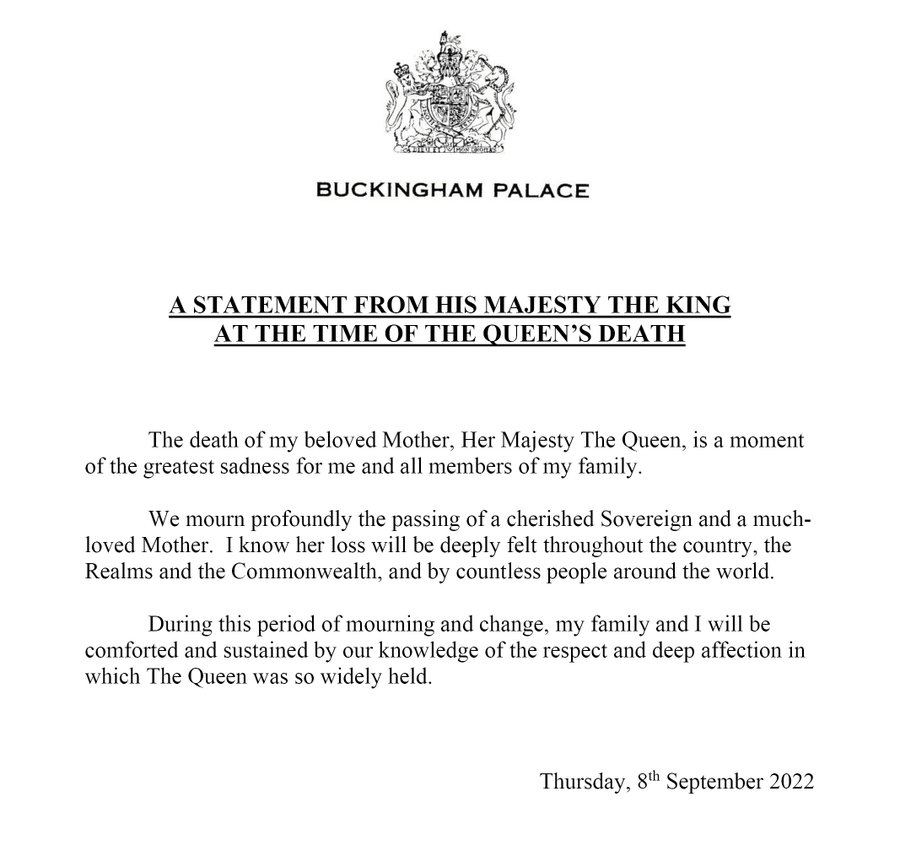 Reacting to the publication of the 2022-2023 Programme for Government, Charandeep Singh BEM, Deputy Chief Executive, Scottish Chambers of Commerce, said:
"The First Minister rightly highlighted the challenges faced by businesses and households as spiralling energy bills and inflation weigh down on confidence and prospects of a recession loom large.
"Despite the resilience of business communities, it is clear we are in an economic crisis which poses an existential threat to firms and communities across Scotland.
"Whilst the Scottish Government has set out its priorities, the real test will come in the next fortnight as the new Prime Minister presents the UK Government's emergency budget which has no choice but to deliver financial support for businesses and households across the UK.
"It is paramount the UK Government announces practical support which provides businesses with financial reliefs, as well as providing equitable consequential funding to the Scottish Government so that devolved policy matters such as the burden of Non-Domestic Rates can be meaningfully reduced for Scottish businesses."
On Non-Domestic Rates:
"Firms need urgent reliefs to reduce the burden of non-domestic rates which is typically the highest upfront cost burden on businesses. As the costs crisis hits businesses hard, this is an immediate action the Scottish Government can take as part of its Emergency Budget process.
"From a regulatory perspective, planned changes to the NDR appeals system are complex and concerning to businesses, with many telling us that they do not hold much hope for successfully winning appeals. These proposed changes will be presented to the Scottish Parliament next month and our members have requested these changes be put on hold."
On the Deposit Return Scheme:
"It will be disappointing to many firms to see that the Scottish Government still plan to implement the Deposit Return Scheme from August 2023, despite business representations calling for the scheme to be paused.
"Scotland's scheme will hit the competitiveness of companies operating here as other UK schemes are not due until 2024. We hope the Scottish Government recognise the urgent need to hit pause on this scheme as businesses cannot afford these additional burdens during this challenging time."
On Skills & Talent:
"The Scottish Government's commitment to responding swiftly to the Stewart Review is welcome and must act to tackle the barriers facing women in business. Moves to encourage the development of Scotland's fast-growing tech start up sector are also welcome which will help Scotland continue to emerge as a tech world leader."
On Green Freeports:
"The commitment to progress two Scottish Green Freeports remains a positive step forward and will be a catalyst for the creation of new green jobs as well as promoting manufacturing, trade, investment and innovation."
On Climate Opportunity and a Just Transition:
"Scotland's businesses recognise the challenges posed by climate change as well as the opportunities to be grasped by the world's drive towards Net Zero. The business community remains at the forefront of innovation and invention to help contribute to meeting net zero targets.
"Plans for an Energy Strategy and a Just Transition Plan are ambitious but must come with a roadmap that prioritises a fair and just transition.
"Today's calls from the Scottish Government for an enhanced windfall tax will raise concerns for many. We urge the Scottish and UK Government to prioritise industry engagement and collaboration on future plans which could incentivise or inhibit business and investor confidence."
Thurso area to benefit from RES wind farm scheme
Cairnmore Hill, which went into planning this week, is understood to be the first wind farm in Caithness to include Thurso Community Council area as a direct beneficiary of its community benefit package.
RES has submitted a planning application to The Highland Council for its re-designed Cairnmore Hill Wind Farm. The revised 5-turbine proposal, sited approximately 4.5km west of Thurso, lies in an area identified by the Council as having 'potential for wind farm development'.
If consented, Cairnmore Hill Wind Farm would be capable of generating enough clean, low-cost electricity to meet the annual demand of around 24,000 homes. It will also provide a tailored package of benefits aligned with community priorities to help deliver local projects that will secure long-term economic, social and environmental benefits.
 Read more here
BUSINESSES ON THE BRINK OF COLLAPSE WITHOUT URGENT GOVERNMENT SUPPORT
Ahead of the new energy price cap announcement by Ofgem on Friday 26th August 2022, Caithness Chamber of Commerce propose urgent actions for the Scottish and UK Governments to tackle the cost crisis and support businesses. 
Our Action Plan for the Scottish Government to support businesses are:
Provide a Business Relief Package at a similar level of support from the COVID-19 pandemic. This should be aligned with support offered to communities and households.
Ensure that the Non-Domestic Rates (NDR) Revaluation that is due to take place in 2023 goes ahead as planned, without any further delay.
Place a moratorium on all policy measures that increase business costs for the remainder of this parliament.
Pause burdensome regulations such as changes to the non-domestic rates appeals system and new taxes such as the workplace parking levy and tourism tax.
Our Action Plan for the UK Government to support businesses are:
Temporary cut in VAT bills to 5% to reduce spiralling energy costs for businesses and introduction of an SME energy price cap which has also been backed by Scottish Government.
Covid-style support by introducing Government Emergency Energy Grant for SMEs for the businesses most at risk from the cost emergency.
Temporarily reverse NICs and put money back into the pockets of businesses and workers.
UK Government to immediately review and reform the Shortage Occupation List (SOL) to help fill talent shortages.
Addressing the challenges facing businesses and households, Trudy Morris, Chief Executive of Caithness Chamber of Commerce, said: 
"Since the start of 2021, businesses could see this crisis coming and have been consistently telling us that they are facing unsustainable rises in costs. The impact of these challenges on businesses, consumers and our communities must be tackled with immediate action.
"The scale of the crisis has reached a tipping point and with so many on the brink, we simply cannot afford any more inaction. From the UK Government, businesses need to receive emergency support for spiralling costs through grant funding, energy price caps and a reduction in VAT on energy bills. Urgent reform of the Shortage Occupation List is needed immediately to address labour market supply and skills shortages.
"The Scottish Government must also take action within its powers to alleviate the cost burden on businesses and households, including pausing burdensome regulations and providing direct financial support."
The Pentland Floating Offshore Wind Farm (PFOWF) has joined the Caithness Chamber of Commerce as a diamond partner – the highest level of membership.
This will support the Chamber in its mission to create a vibrant business community within the North Highlands and maximise the opportunities the project will bring to the area.
The PFOWF is a 100-MW project being developed off the coast of Dounreay in Scotland which once completed, will generate enough clean electricity for almost 70,000 homes, approximately 65% of those in the Highland Council area.
Scheduled to be operational by 2026, the development will test and demonstrate new floating wind technology solutions which will reduce costs, accelerate industrialisation and offer learnings for future ScotWind projects and floating offshore wind globally.
Commenting on new membership, Richard Copeland, Project Director said:
"Highlighting our ongoing commitment to the region, our membership will allow us to engage further with the local supply chain in Caithness and beyond, providing opportunities to promote the wider benefits of the project, both during construction, and when operational.
"As part of our plans to work with local suppliers, we look forward to building a partnership with the Chamber to deliver social and economic benefits wherever possible; from the development of our O&M base at Scrabster Harbour to the wider infrastructure and support services the project will generate.
"We'll also look to collaborate on skills initiatives through local colleges to provide provision for apprenticeships and training that bring further employment to the area. Complementary to this, is our education and training fund which will assist local school students going on to study STEM courses in further and higher education."
Trudy Morris, Chief Executive at Caithness Chamber of Commerce, added: "We are delighted to welcome Pentland Floating Offshore Wind Farm as Diamond Premier Partners. This cements the importance given to maximising opportunities for the local supply chain and wider community and is a significant commitment by the organisation. We look forward to working with the team to help realise the opportunities for businesses, communities and our young people.
"This will be a transformational project for the region as offshore wind developments such as the Pentland Floating Offshore Wind Farm play a key role in helping Scotland and the UK reach their net zero targets as well as create jobs and drive investment in skills and infrastructure."
www.pentlandfloatingwind.com
Looking to fly from Wick but unsure of schedules and connections?
The link below gives access to information on the schedule of flights from Wick to Aberdeen and onward domestic & international connections.
For more information – click here
For bookings visit easternairways.com