This month, we're thrilled to welcome to our membership Bridges UK (Worldwide) Ltd, GMG Energy Ltd and Prima Uno Ltd we look forward to working with them all.
To discuss membership, please reach out to our Business Development manager, Fiona Levack. You can contact Fiona by email: fiona@caithnesschamber.com. You can read about membership on the website using this link.
If you're already a member but would like a reminder of how to get the most from your membership, Fiona will gladly go over that with you too.
SCC QUARTERLY ECONOMIC INDICATOR: Q4 2022 REPORT
The latest findings from a leading Scottish business survey by the Scottish Chambers of Commerce (SCC) shows Scottish businesses and the economy faltering under increasing cost pressures and declining business confidence. As a result, cashflow and profits are falling, investment decisions have paused, firms are raising prices and struggling to recruit and retain staff.
KEY FINDINGS:
• PRICE RISES NOW A REALITY: 82% of all firms indicate that they intend to raise prices over the next quarter. This is a successive record high for the survey. The retail and tourism sectors had the highest proportion of firms indicating future price rises at 77% and 76% of firms respectively.
• LABOUR COSTS OVERTAKE ENERGY BILLS AS TOP COST PRESSURE: Concern over energy bills has halved since the previous quarter, attributed to the UK Government's energy bill relief scheme which took effect from October 2022. Labour costs have now taken precedence as the leading cost pressure, cited by over seven in ten firms (72%). Concern over fuel costs and raw material prices remains high, both being cited by six in ten firms.
• INFLATION REMAINS TOP BUSINESS CONCERN: Concern from inflation has eased for a second successive quarter but remains high with 8 in 10 firms (80%) of firms citing it over Q4. The next highest concerns are interest rates (50%) which has seen nearly a 15% increase since Q3 2022.
• CONFIDENCE DECLINING: On balance, all firms have reported a fall in confidence compared to the previous quarter and a more significant fall compared to last year. On a sectoral basis, every sector reported a fall in confidence with retail
Stephen Leckie, President of the Scottish Chambers of Commerce said:
"The end of 2022 turned out to be a bleak period for Scottish businesses. All sectors are coming under immense strain because of upfront costs which are hitting cashflow and profits. Additional cost pressures are adding to this burden, particularly with rising staff costs, which is leading the majority of businesses to raise prices.
"There can be little doubt that recessionary effects are dragging the Scottish economy away from recovery and growth. The survey results paint a particularly worrying picture for the retail and tourism sectors with contractions in future sales and investment intentions.
"As relief packages come to an end, businesses are extremely concerned particularly on energy prices which continue to be volatile. Any sudden removal of this support could severely impact business survivability.
"We call on the UK and Scottish Government to urgently support SMEs by providing relief packages and a clear economic plan."
On energy bills, Stephen Leckie said:
"Energy bills continue to be a significant cost pressure for firms. While the survey shows that the energy bills relief scheme has helped since it came into effect in October, the lack of further support is a major cause for concern.
"The successor to the energy bills relief scheme from March will see an 85% drop in the financial envelope of support which will fall short for thousands of Scottish businesses who are seriously struggling.
"While we welcome the 12-month duration of this package, the value is nowhere near enough and that means for some firms, energy will now be a cost too far. We would urge the UK Government to revisit the relief package urgently.
"While considerable uncertainty remains, households and businesses will face a further increase in energy costs from 1st April 2023. Given wider economic challenges, this will harm those most in need and further targeted support for those most vulnerable will be necessary."
On inflation and price rises, Stephen Leckie said:
"While concern from inflation has eased slightly compared to the previous quarter, eight in ten firms are still citing it as a pressing concern for their business and this is likely to persist for much of 2023. Concern over interest rates has been reported by half of Scottish firms, seeing record highs for some sectors.
"These concerns are forcing businesses to act by raising prices. A new record number of firms (82%) tell us that they will do this over the next quarter, highlighting the scale of the challenge at hand."
On Scotland's workforce, Stephen Leckie said:
"Persistent challenges over access to labour and retaining talent are beginning to take precedence as a leading concern for firms. Both the Scottish and UK Government need to act quickly to alleviate the challenges in the workforce.
"At Westminster, we need to see a flexible migration system which aligns with economic need so businesses can hire and attract the international workforce to live and work in the UK. With more vacancies in the UK than people available to fill them, this is an essential route that cannot be avoided if we are serious about economic growth.
"At Holyrood, we have called for measures to tailor elements of the careers service offering to bring older workers back into the workforce, alongside measures to offer more opportunities for economically disadvantaged individuals, to support the competitiveness of Scottish businesses."
Commenting on the results, Mairi Spowage, Director at the University of Strathclyde's Fraser of Allander Institute, said:
"Setting out the economic and fiscal context can currently feel a bit like groundhog day, with concerns about economic conditions simply seemingly get worse as we kick off 2023. The consensus now is that the UK and Scottish economy are in recession: and the only debate among forecasters is exactly when it starts and how many quarters long it will be.
"Front and centre for both consumers and businesses are of course energy costs. While the UK Government has put in place very costly help for both groups, it does mean that there is much more pain still to come in April. The Energy Bill Discount Scheme announced last week is much less generous than the scheme in place before the end of March – and will see energy costs for some businesses potentially double yet again.
"As is clear from the survey published today, though, the story of increased costs is not just about energy – labour market costs are also a significant part of the story. The latest data for wage growth in the UK published this week shows that pay in the private sector increased by 7.2% in the 3 months to November. In the last few months we have seen falls in the number of vacancies in the UK compared to the heights of the summer, but there is still an incredibly tight labour market: making vacancies very hard to fill and pushing up costs.
"We must be positive about the ability of Scottish businesses to weather the storm – they have proven their resilience over the past three, very challenging, years. What is clear is that they will have to draw on that further during 2023."
Read the full report below:
This month, we're thrilled to welcome to our membership Highland Council (PSO) and Eastern Airways we look forward to working with them both.
To discuss membership, please reach out to our Business Development manager, Fiona Levack. You can contact Fiona by email: fiona@caithnesschamber.com. You can read about membership on the website using this link.
If you're already a member but would like a reminder of how to get the most from your membership, Fiona will gladly go over that with you too.
Despite transport challenges this year the Caithness Transport Forum was pleased to hear of productive transport developments and advocacy within the North Highlands at its recent meeting in November. Members heard updates on the impacts of increased investment in the region.
Amongst the highlights of these successes is the Public Service Obligation (PSO) in place at Wick John O'Groats Airport which has now been running for six months. Providing a crucial network link designed to offer maximum opportunity for connections through Aberdeen Airport and on to further world-wide connectivity via London and Amsterdam, members of the Forum agreed that this flight service was a life-line link for the people and businesses of the North Highlands and hoped that patronage would continue to increase. Airport stakeholders continue to explore route development and the Forum expressed a desire for additional destinations.
Wick Harbour reported a productive year with vessels from the offshore wind industry utilising the harbour, and it is anticipated that this will continue for the 2023 operational period. The marina saw its busiest year since installation with 350 visiting vessels and a welcome upturn in local vessels using the facility.
The redeveloped St Ola Pier is providing a valuable addition to the port at Scrabster Harbour allowing for increased activity including cruise, cargo operations and storage, fishing and project mobilisation. Looking forward to 2023 prospective cruise bookings are highly encouraging. Scrabster Harbour announced a business network event taking place on the 1 December. The event is aimed at linking local tourist attractions and business with representatives from the cruise industry to encourage connections, explore opportunities and establish potential business partnerships.
The Forum also congratulated Serco NorthLink Ferries, as they celebrated 10 years successfully operating the vital ferry service from the Scottish Mainland to the Shetland and Orkney islands in July 2022. Providing daily connectivity for business and local communities Serco NorthLink Ferries reported a positive upturn in passenger carrying volumes, seeing an almost 50% increase against 2021 figures and signalling a return to pre-pandemic patronage of the service. An annual 7% increase on freight carriage was also announced which further highlights the important role NorthLink Ferries play in the supply chain and economic wellbeing of Northern Isles and far north communities[i].
Pentland Ferries also reported a positive upturn in passenger carrying volumes above pre-covid levels, despite the disruption to services during the summer. It was good to hear that customer service roles at Gills Harbour had been filled.
Whilst rail travel has been a challenge with the ongoing strikes, it was pleasing to hear that the improvements recommended by the Far North Rail Review Group[ii] established in 2016, were still moving ahead. In particular the Delmore Loop, which will make the route more reliable and allow for timetable enhancements to the Far North Line.
Members of the Forum acknowledged the difficulties faced across the transport sector caused by significant cost increases in relation to energy, fuel and construction materials in addition to staff shortages. Transport providers such as The Highland Council, Stagecoach, HIAL and Scotrail had all faced these significant challenges and the Forum recognised the work done to try and mitigate these and still deliver services and infrastructure maintenance and repairs.
Despite the positive updates the Forum expressed concern with regard the uncertainty of further rising business energy prices, rising inflation and a forecasted recession in 2023 putting a further strain on services.
Chair of the Caithness Transport Forum, Trudy Morris, said:
"As a Forum we work in partnership with transport providers and stakeholders to lobby the Scottish Government on the pertinent issues and complex distinctions of our region. The Caithness Transport Forum is committed to advocating for the economic, social and environmental interests of businesses and residents of Caithness.
We fully appreciate the fiscally challenging environment the two governments are facing. However, if the ambitious targets laid out by the Just Transition Commission and the Programme for Government are to be successfully realised and are truly just and equitable, it needs innovative solutions and commitment from the Scottish Government which engage with and deliver the needs of those living, working, operating and investing in remote and rural locations such as the North Highlands." 
Further details of the Caithness Transport Forum can be found online at https://www.caithnesschamber.com/what-we-do/contracts-funded-projects/caithness-transport-forum/
[i] NorthLink Ferries 2021 freight figures not adversely affected by pandemic measures –https://www.northlinkferries.co.uk/news/statistics/
[ii] https://www.transport.gov.scot/public-transport/rail/far-north-line-review-group/
Orbex granted fifty-year lease on UK´s 1st mainland vertical launch spaceport site
Spaceport specialist Jacobs contracted to deliver £20m construction project
Forty new jobs to be created in Sutherland, helping attract talent and grow population
Forres, UK, November 1, 2022 – A Scottish rocket manufacturer and orbital launch services provider is to build and operate the first vertical launch site for satellites on the UK mainland.
Orbex, based in Forres, Moray, has signed a lease with development agency Highlands and Islands Enterprise (HIE) for the spaceport location on community-owned land on the A' Mhoine peninsula in north-west Sutherland.
HIE has been developing launch plans for several years and leases the site from Melness Crofters' Estate. The sub-lease with Orbex will run for 50 years, with an option to extend for a further 25 years.
Orbex will oversee the construction and assume full operational management of the new facility. The 10-acre launch site will become the long-term 'home' spaceport of Orbex and will see the launch of up to 12 orbital rockets per year, carrying satellites into low Earth orbit.
Orbex's role in the spaceport will stimulate significant private investment that will benefit the local community through job creation, supply chain opportunities and other associated economic benefits. Total private investment over the initial three-year period is expected to reach £20 million.
In addition to increased opportunities for local businesses and contractors as part of the spaceport's construction, Orbex expects to create up to 40 technical and non-technical FTE jobs to support the operation and maintenance of the site.  The roles will span a number of areas including facilities and operational management, security, general administration and finance, marketing, stakeholder engagement and launch campaign-related roles. Employment opportunities will be advertised locally when recruitment commences.
HIE identified the potential for the Highlands and Islands to play a significant role in the UK's growing space sector several years ago, recognising that rural locations that are close to coasts and have a northern latitude can make ideal satellite launch sites.
With the backing of the UK Space Agency, HIE set to work developing plans for the Sutherland spaceport in 2018, with specialist input from architects NORR and construction consultants Gardiner and Theobald.
At the same time, HIE commissioned detailed environmental studies to inform a broad range of protection measures around the site.
Planning permission was granted by the Highland Council in August 2020. A separate development application to the Scottish Land Court – which was required as the launch site is on crofting land – was also successful.
Following its recent participation in Orbex's Series C funding round, it has been confirmed that global technology-forward solutions company, Jacobs, will assume the role of prime construction contractor on behalf of Orbex. Jacobs will collaborate with Orbex to provide spaceport operations support, operations consultancy, and engineering services, drawing on its experience of managing and operating complex, highly regulated sites such as Cape Canaveral in the United States. Jacobs is NASA's largest services provider, delivering mission-tailored solutions and full lifecycle aerospace capabilities including the Mars Perseverance Rover and the Artemis deep space human exploration program.
Overseeing the construction and operational management of the new spaceport will allow Orbex to streamline the development of the state-of-the-art facility, drafting in industry experts such as Jacobs to help meet its objectives. Sutherland Spaceport is intended to become the world's greenest spaceport, both in terms of its construction and its operation. One illustration of this is how peat lifted during the construction will be re-used to repair large areas of peatland that have degraded over centuries.
Uniquely, the new Orbex Prime rocket is powered by a renewable biofuel, Futuria Liquid Gas, supplied by Calor. This fuel allows the rocket to reduce carbon emissions significantly compared to other similarly sized rockets being developed elsewhere around the world. A study by the University of Exeter showed that a single launch of the Orbex Prime rocket will produce 96 per cent lower carbon emissions than comparable space launch systems using fossil fuels. Prime is also a re-usable rocket which has been engineered to leave zero debris on Earth and in orbit. Orbex has already received a great deal of interest from commercial satellite manufacturers and has signed launch contracts with a number of customers.
The spaceport is being constructed on the A'Mhoine peninsula in Sutherland, on land owned and managed by the Melness Crofters' Estate (MCE) who have worked closely with HIE to bring the spaceport project to fruition and deliver local economic benefits.
Chris Larmour, CEO, Orbex:
"We are very grateful for the work that HIE and the Melness Crofters Estate have done, in getting us to the point where we can take the baton and start construction. We have collaborated closely with them over the past few years, and we are completely aligned in our vision of delivering a sustainable spaceport that will bring jobs and prosperity to the region. Orbex is the first European launcher company to also manage a dedicated spaceport. It is an important competitive advantage to the company, which will make it really easy for us to work with customers as we scale up our operations."
David Oxley, Director of Strategic Projects, Highlands and Islands Enterprise: 
"The space industry represents a huge economic opportunity for the Highlands and Islands and for Scotland. The steps we've taken to establish launch capability in Sutherland have already delivered a significant economic impact as a key factor in attracting Orbex to establish their manufacturing facility and test site in Moray, creating dozens of skilled jobs, with many more in the pipeline.
"We believe the spaceport has the capacity to generate around 250 jobs in our region, including 40 on site, plus opportunities in manufacturing, supply chain, research and service provision.
"With Orbex now set to build and operate the spaceport, we've reached a key stage in our partnership that will not only see launches happening from Sutherland but a whole range of wider economic benefits delivered for the Highlands and Islands."
Comments from Partners:
Jacobs:
"The Orbex Prime rocket promises to be a game changer for small satellite developers and operators, enabling them to launch light satellites much more efficiently and cost-effectively. Sutherland Spaceport is an important development for the European space industry and will bring major economic and social benefits to North Highland and Moray, where our business has been active for decades in supporting operations, decommissioning and remediation at the Dounreay nuclear site." – Karen Wiemelt, Senior Vice President, Jacobs Energy, Security and Technology
Melness Crofters' Estate:
"The Moine is a beautiful part of our estate that deserves to be respected, and we know it is in extremely good hands with Orbex managing the operation of the spaceport. Since the very beginning of our relationship with Orbex, our mutual focus has been very much on safety, the environment and the creation of job opportunities for the local community. We have seen massive population decline in the area over the past few years and our community is being starved of its lifeblood, young people. This is our way – perhaps a less-than-obvious way – of bringing new life back to our area. We are excited for the positive impact this will have on our community over the coming years." – Dorothy Pritchard, Chair
Scottish Government:
"This announcement brings us another step closer to becoming Europe's leading space nation through the provision of sustainable launch.
"Innovative companies like Orbex are vital to achieving the aims of our National Strategy for Economic Transformation, that strives for Scotland to be a nation of entrepreneurs and innovators with resilient supply chains." – Ivan McKee, Business Minister
UK Space Agency:
"The 50-year lease is fantastic news for Orbex and the wider UK space sector.
"Construction of Sutherland Spaceport will mark a major step forward for Scotland's vertical launch capability and lead to the creation of a range of new jobs in the local community and beyond.
"We've provided funding to support the development of Orbex's Prime rocket and the spaceport, and I'm confident that this new agreement will allow Orbex to strengthen the UK's position as the leading destination in Europe for commercial spaceflight services and international investment." – Ian Annett, Deputy CEO
About Orbex
Orbex is a UK-based spaceflight company with headquarters, production and testing facilities in Scotland, and design and testing facilities in Denmark. Orbex staff members have professional backgrounds with NASA, ESA and several commercial spaceflight organisations. The company is funded by the Scottish National Investment bank, two of the UK's largest venture capital funds, BGF and Octopus Ventures, two of Europe's largest venture capital funds, Heartcore Capital and the High-Tech Gründerfonds, as well as strategic investors Elecnor, parent company of Deimos Space, and Jacobs, the largest services supplier to NASA. The company has won more than a dozen R&D contracts from a wide variety of bodies, including the UK Space Agency (UKSA), the European Space Agency (ESA) and the European Commission Horizon 2020 programme.
Responding to the release of further details from the UK Government on the energy support plan for business, Trudy Morris, Chief Executive of Caithness Chamber of Commerce, said:
"Whilst it is welcome that the UK Government has finally responded and stepped up to provide an initial support package for firms by capping wholesale energy prices for six months, it is simply not enough.  We hope that the Chancellor's fiscal statement on Friday, will give more detail on support for businesses.
"A six-month cap is not enough for businesses to be sufficiently reassured that the problem won't return when the cap is no longer in effect.
"We also urge the UK Government to engage with the business community before defining 'vulnerable industries' cited for support after the original six-month cap.  Right now, many industries are vulnerable, and this is unlikely to change in such a short period of time.
"The Prime Minister has said she wants to deliver growth and get the economy going.  To do this, we need businesses to survive."
ENDS
With the continuing energy crisis, many businesses are left wondering what their options are for lowering costs and becoming more resilient to ever changing market conditions.
Whilst the Chamber continues to lobby and campaign for government support for businesses, we wanted to know how renewable heating options stack up in this current economic climate. So, we asked our member Ryan Pollard, at RDI Renewables to share his thoughts on the options available for businesses in way that was easy to understand and clearly set out the cost benefits.
Here's Ryan's thoughts……….
Solar Photovoltaic
With the current energy crisis setting in, many businesses will be struggling to avoid the rising costs for fuel, in particular electric. There seems to be little we can do about it with some companies reporting as much as a 500% increase in their costs.
One option worth considering would be to check the feasibility of solar panels, in the past solar panels have been propped up by government incentives such as the feed in tariff scheme. In more recent years this technology has reached a point where it has been able to stand on its own two feet as far as financial returns are concerned. The standard domestic array from RDI Renewables today will cost around £5,500, this would be for a 5.3kW array which will produce around 4,000kWh per year of electricity. Based on recent costs of electricity of 17p/kWh this would have a value of £680 meaning the investment would pay for itself in just over 8 years, which is not bad.
It can be difficult to come up with a sensible estimate on what today's electric tariff is as many businesses are being quoted as much as 63p/kWh. However let's play it safe and go with 40p/kWh, on this basis on the same size of array you would yield 4,000kWh x £0.40 = £1,600. This is a staggering amount of money and would bring an annual return on investment of 29% paying for itself in just over 3 years.
The good thing about PVs is that they are very scalable and this example will be very similar on a larger scale. For example, a 38.5kW array was recently looked at for a local business on a building with very high electric use. This array will cost £27,086.67 plus VAT to install and will generate around 23,000kWh of electricity, based on 40p/kWh this will save this local business £9,200 per year.
Not all businesses are suitable as some will have much higher electric costs in the winter, for example if electric heating is used. In these cases solar PV may not be worth doing or at least not on a large scale. Many businesses however have consistent electric consumption throughout the year where manufacturing is carried out. Others may have much higher electric usage in the summer if the business has chillers/freezers which work much harder in the summer or perhaps the business is involved with the tourism industry which is seasonal and well suited for solar PV.
One final note to consider on solar PV is that the equipment is very reliable, this technology is solid state and therefore has no moving parts and no annual service requirements. The inverter is the only part of the system which is likely to break at some point and this comes with a 10 year warranty, aside from this the whole system is expected to last over 20 years.
Biomass
For businesses which are expecting high costs for heating throughout this winter another option which may be worth looking into would be a biomass boiler.  Let's take a snapshot of some local prices for fuel and compare from most expensive to cheapest what options local businesses have.
Electric or storage heaters are by far the most expensive way of heating your business, with current electric prices in excess of 40p/kWh. Electric heating is only able to provide 1kWh of heat for every 1kWh of electricity consumed and therefore the cost of this form of heating is 40p/kWh or higher.
Air source heat pumps are a great way for many businesses to reduce costs as they use a refrigeration circuit to move heat energy around as opposed to converting it. As a result this technology can produce 3kWh of heat out for every 1 used, meaning the cost is only 13.5p/kWh. This technology is a great option for anyone who currently uses electric heaters for their business.
Kerosene or oil is another very popular form of heating within the North Highlands. Recent changes to the use of red diesel means that most businesses are now using this for their heating. Kerosene did shoot up to around £1.15/Litre recently but has settled back down to around £0.95 per Litre. 1 Litre of kerosene contains approximately 10kWh of heat meaning the cost is around 9.5p/kWh of heat, which is not bad.
Biomass takes many different forms however the 3 most common are log, chip and pellet. Logs are the cheapest form of heating. However, there are no automated feed systems for log boilers which means you have to load a boiler as well as clean it out and remove ash etc. Some businesses will have the manpower to accommodate this however many will not.
Wood pellets can be blown in via a lorry and the boilers are fully automated making this technology as easy to run as oil. However pellets are a manufactured fuel and are therefore sensitive to international oil and gas prices. This means that they have also seen a significant increase in cost over the past few months and are showing no signs of reducing.
Wood chip comes with the advantages of both of the above fuel types, it's as cheap and available as logs due to the fact that local timber can be sourced from local forests and turned into chip by local contractors. The boilers are also automated so there is no need to light the boiler or refuel for example. If you have the space to accommodate the plant required to run such a system then you could consider the possibility of having a wood chip boiler installed. Many local businesses in the region have found great success in doing so and are continuing to reap the benefits. Wood chip costs around £120 a tonne and 1 tonne of chip (4m3) contains around 3,000kWh of heat, meaning the cost of heating your business with wood chip today is around 4p/kWh.
To summarise, many local businesses within the North Highlands are going to be struggling over the coming winter and beyond. Not all will be suitable for the above technologies however some will be. If you feel that you could benefit and would like to know more about how feasible renewables are for your business then please reach out to RDI Renewables and we will try our best to help. We have been established in the county for over 10 years now and have a wealth of experience as well as a long list of clients who can speak to our services and continued support long after the installation is complete.
Contact Ryan at info@rdirenewables.co.uk or 01847 890012
We are deeply saddened at Caithness Chamber of Commerce to learn of the passing of Her Majesty the Queen. She devoted herself to a lifetime of service to our country and she will be greatly missed.
Our thoughts and prayers are with the Royal Family at this time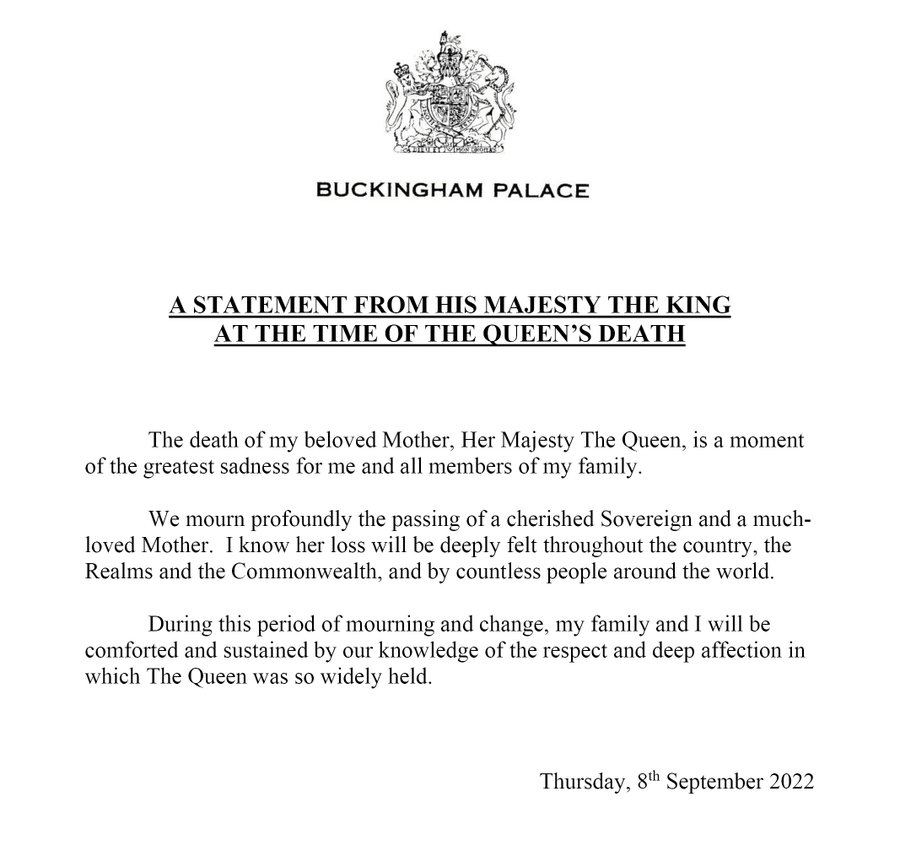 Reacting to the publication of the 2022-2023 Programme for Government, Charandeep Singh BEM, Deputy Chief Executive, Scottish Chambers of Commerce, said:
"The First Minister rightly highlighted the challenges faced by businesses and households as spiralling energy bills and inflation weigh down on confidence and prospects of a recession loom large.
"Despite the resilience of business communities, it is clear we are in an economic crisis which poses an existential threat to firms and communities across Scotland.
"Whilst the Scottish Government has set out its priorities, the real test will come in the next fortnight as the new Prime Minister presents the UK Government's emergency budget which has no choice but to deliver financial support for businesses and households across the UK.
"It is paramount the UK Government announces practical support which provides businesses with financial reliefs, as well as providing equitable consequential funding to the Scottish Government so that devolved policy matters such as the burden of Non-Domestic Rates can be meaningfully reduced for Scottish businesses."
On Non-Domestic Rates:
"Firms need urgent reliefs to reduce the burden of non-domestic rates which is typically the highest upfront cost burden on businesses. As the costs crisis hits businesses hard, this is an immediate action the Scottish Government can take as part of its Emergency Budget process.
"From a regulatory perspective, planned changes to the NDR appeals system are complex and concerning to businesses, with many telling us that they do not hold much hope for successfully winning appeals. These proposed changes will be presented to the Scottish Parliament next month and our members have requested these changes be put on hold."
On the Deposit Return Scheme:
"It will be disappointing to many firms to see that the Scottish Government still plan to implement the Deposit Return Scheme from August 2023, despite business representations calling for the scheme to be paused.
"Scotland's scheme will hit the competitiveness of companies operating here as other UK schemes are not due until 2024. We hope the Scottish Government recognise the urgent need to hit pause on this scheme as businesses cannot afford these additional burdens during this challenging time."
On Skills & Talent:
"The Scottish Government's commitment to responding swiftly to the Stewart Review is welcome and must act to tackle the barriers facing women in business. Moves to encourage the development of Scotland's fast-growing tech start up sector are also welcome which will help Scotland continue to emerge as a tech world leader."
On Green Freeports:
"The commitment to progress two Scottish Green Freeports remains a positive step forward and will be a catalyst for the creation of new green jobs as well as promoting manufacturing, trade, investment and innovation."
On Climate Opportunity and a Just Transition:
"Scotland's businesses recognise the challenges posed by climate change as well as the opportunities to be grasped by the world's drive towards Net Zero. The business community remains at the forefront of innovation and invention to help contribute to meeting net zero targets.
"Plans for an Energy Strategy and a Just Transition Plan are ambitious but must come with a roadmap that prioritises a fair and just transition.
"Today's calls from the Scottish Government for an enhanced windfall tax will raise concerns for many. We urge the Scottish and UK Government to prioritise industry engagement and collaboration on future plans which could incentivise or inhibit business and investor confidence."