15th November 2023, 10:00 to 11:00 @ Online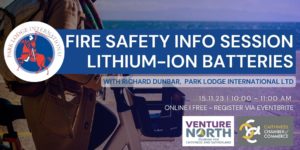 15th November 2023, 10:00 – 11:00AM
Online

Free event for all Caithness Chamber of Commerce and Venture North Members
Lithium-ion batteries are playing an important role in our collective journey towards net zero, with a significant rise in the use of electrical vehicles and e-bikes.
Caithness Chamber of Commerce, in partnership with Venture North is pleased to welcome specialists in Fire Safety, Richard Dunbar, MD of Park Lodge International Ltd to give an overview of the safety concerns associated with Lithium-ion battery charging and advice on how to safeguard your business to help mitigate against the associated risks.
This session will help you understand the need for a robust fire risk assessment and policies which encompass the charging of Lithium-ion batteries on your premises.
This session will be tailored to:
Hospitality, Tourism & Leisure Businesses
Businesses and organisations with responsibility for residential/overnight accommodations
Businesses with EV vehicles or where staff are charging E-Bikes / EV vehicles onsite.
Anyone keen to learn more about the fire risks associated with Lithium-ion batteries is also welcome to join.
There will be opportunity for live Q&A session after the presentation, please contact info@caithnesschamber.com if you wish to submit question in advance.
About
Richard Dunbar, MD of Park Lodge International Ltd is based in Caithness with a background of fire and police service is a specialist in fire safety, alternative fuelled vehicles and battery storage systems. Park Lodge Consultancy undertakes fire safety consultancy 4 continents.
This event is free to attend for all Caithness Chamber of Commerce and Venture North Members as part of as part of Talking Tourism.
Book your place via Eventbrite Here.