5th December 2023, 08:00 to 11:00 @ Mackays Hotel, Wick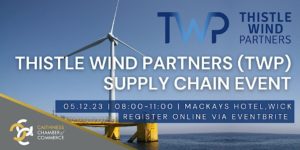 Tuesday 5th December , 2023, 08:00 – 11:00
Mackays Hotel, Wick
Join the Thistle Wind Partners team to discover and explore the opportunities ahead for businesses in the Highlands.
Thistle Wind Partners (TWP) is a new offshore wind developer, which was founded in 2020 by a consortium of three companies – DEME, Qair and Aspiravi. TWP's founder companies work on a wide variety of renewable energy, environmental remediation, and marine infrastructure projects around the world.
In January 2022, Crown Estate Scotland awarded TWP two ScotWind leasing sites for offshore wind development. Over the next decade, TWP will develop and build:
The Ayre Offshore Wind Farm, a 1GW floating-foundation project, to the east of Orkney and north of Caithness (57km from Wick), at a deepwater site in the NE2 leasing zone (200km2 in area).
The Bowdun Offshore Wind Farm, a 1GW fixed-foundation project, located 44km off the coast of Aberdeenshire (from Stonehaven) in the E3 leasing zone (187km2 in area).
By mixing floating and jacket foundations, our projects represent a broad and exciting opportunity for technology developers and the Scottish supply chain.
At this event, organised by the Caithness Chamber of Commerce, TWP's team are looking to introduce and discuss the opportunities ahead for businesses in the Highlands
View the full agenda and reserve your space now on Eventbrite.
For further information contact Fiona Levack, Business Development Manager at Fiona@caithnesschamber.com